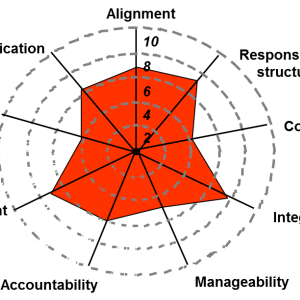 An increasing number of organisations are implementing strategic performance management systems. Despite the increase in experience gained with implementing this approach, there is still a lot to be learned about the factors that influence the everyday use of performance management and of the factors that influence performance-driven behavior. We identified behavioral factors that have an influence on this behavior. More recently we consolidated these factors into nine aspects, developing a tool called the Performance Management Analysis – PMA®.
André de Waal has produced a rigorous study of the behavioral and organizational factors that influence implementation success for new performance management systems. It is an important addition to the literature for its focus on recognizing and overcoming the barriers to introducing new management systems.
The need for performance drivenness
Key for HPO's is to create a strong performance drive in the organisation.
Therefore the Strategic Performance Management system of the organisation has to be strengthened.
This means that both the structural and the behavioral sides of performance management have to be addressed.
The Performance Management Analysis (PMA) factors
Responsibility structure
Clear clear tasks and responsibilities for every management level.
Guidelines for strategic plans and targets.
Consistent application by all management levels.
Content (of reports)
Balanced set of performance information.
Strategic focus through use of CSF's and KPI's.
Dynamic targets, obtained through bench-marking.
Integrity (of data)
Reliable information.
Timely information.
Consistent information.
Manageability (of information)
User friendly reports and systems.
Exception reporting.
More detailed performance information easy to access.
Accountability
Performance information is relevant.
Performance results can be influenced.
Performance alignment takes place on all management levels.
Management style
Management is visibly committed.
Improvement culture is fostered.
Consistent behavior on all management levels.
Action orientation
Performance information is integrated in daily activities.
Actions to immediately correct problems.
Prognosis to start addressing future problems.
Communication
Regular communication, top-down and bottom-up.
Regular sharing and transferring of performance information between organisational units.
Structured knowledge sharing.
Alignment
Human Resource Management tools (performance evaluation, rewarding, training) are aligned with performance management.
Good and positive attitude towards performance management.
Organisation has improved its results thanks to the use of performance management.
For more information about performance management analysis – PMA® contact Alex Meingast (meingast@hpocenter.com or T. +31 (0) 35 – 603 70 07).